A guy from Vermont crashes in a tropical paradise. It's a long swim home.
---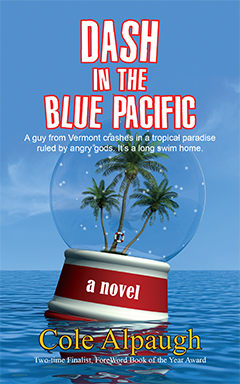 ---


Dash does not feel lucky. When his plane crashes in the South Pacific on a honeymoon flight to Sydney, Australia, he is already a broken man, having left his cheating fiancee at home in Vermont. Dash is the crash's only survivor, and the natives who find his battered body blame him for poisoning their fish with spilled jet fuel. Once he has sufficiently recovered, they plan to offer him as a human sacrifice to their Volcano God, who they believe downed his plane and cursed them with drought and hardship.

While Dash awaits his fate, he abandons all hope of rescue. But his new life has its moments. He meets ten-year-old Tiki, daughter of the chief and an innocent who dreams of being "chosen" by the soldiers who occasionally visit their island. He also conjures up an imaginary friend, Weeleekonawahulahoopa - willy, for short. Willy is half-man, half-fish, a sometime god who resigned his lofty status after failing to save his people from drowning.

As Dash comes to understand the natives who hold him captive and confront his own unhappy past, he suspects that he might not be so unlucky after all.